TWICE AS NICE IN WAGRAIN-KLEINARL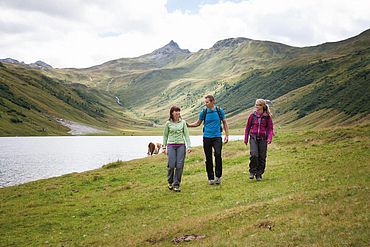 We look forward to welcoming you to the heart of the Salzburgland region, nestled in the grandiose mountains of the Austrian Alps. Come and feel the clean, pure air, untouched nature and breath-taking scenery for yourself. Both towns have retained their individual, homely village feel and exude a peaceful, friendly atmosphere. This is what makes the skiing and hiking mecca of Wagrain-Kleinarl one of the best-loved holiday regions of the Alps in both summer and in winter.
TWICE THE FAMILY FUN IN THE GREAT OUTDOORS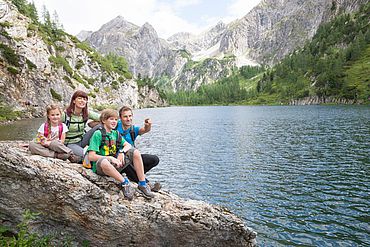 The best way to enjoy all that nature has to offer is to spend a day hiking or skiing with your family. Hiking entails idyllic alpine meadows, a feeling of freedom and a spectacular view across the surrounding peaks and valleys when you reach the top. The ski areas of Wagrain and Kleinarl act as a magnet for skiers who love the Absolut Park, one of the longest snow parks in Europe, and the unique G Link cable car which transports skiers across the valley. All of this is can be enjoyed in Wagrain-Kleinarl at the heart of Salzburg Land.
TWICE AS RELAXED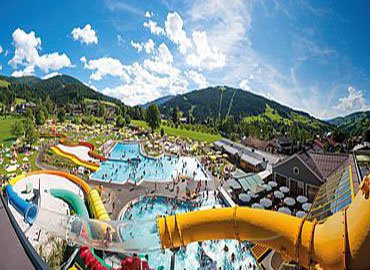 The adventure swimming pool 'Wasserwelt' in Wagrain is a paradise for both children and adults all year round. The indoor and outdoor pools are heated to 30 degrees inviting you relax and have fun. Adrenalin seekers will love the numerous cool, super-fast slides, while those wanting to relax will find an oasis of wellness and relaxation in the generously-sized sauna complex which also includes a family sauna and costumes-on sauna. Also much loved are the bio-sauna, the steam bath, the 'experience showers', the drinking fountain and the delightful outdoor lounge created especially for young and old – swimming costumes are worn to allow the whole family to enjoy the spa experience.
Naturhotel Edelweiss ****SUPERIOR
Familie Bergmüller
Weberlandl 65
A - 5602 Wagrain