Eichingerbauer**** Superior
Familie Sperr
Eich 34
A - 5310 St. Lorenz/Mondsee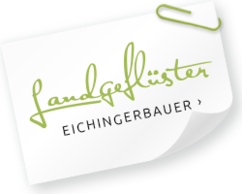 THE HOTEL IN MONDSEE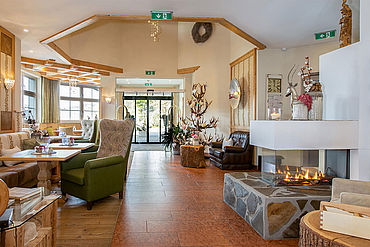 Nestled into the magnificent landscape which the Salzkammergut offers, surrounded by majestic mountains and in close proximity to the lake, your hosts have successfully created a haven of a very special kind.

At this Landhotel, guests dive into a warm atmosphere, derived from a mixture of the romantic, friendliness and genuine warmth. Guests can choose from a single room, a double room or any of the numerous suites available as a backdrop to their relaxing stay.

The highlight is the 'Kaminsuite' whose cosiness in winter makes it difficult for couples to want to go anywhere! Centrally located, the Superior 4-Star Landhotel Eichingerbauer makes the perfect base for exploring the region. Within easy reach are Salzburg, Bad Ischl, Hallstatt, Gmunden, not to mention beautiful Lake Mondsee, Lake Wolfgang, the Attersee and Lake Fuschl.
SPOIL YOURSELF, BODY AND SOUL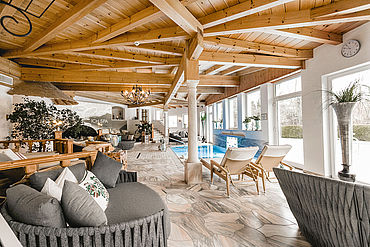 Your hosts, Sabine and Norbert, take relaxation to another level with the hotel's wellness facility, the EICHSpa. Single visitors and couples step into a veritable wellness heaven, where baths to pamper the soul are on offer, as well as a varied offering of massages, manicures, pedicures or luxury skin treatments. In allusion to ancient Rome, where people understood the importance of recuperation, hotel guests are invited to enter the 'Roman Temple' and indulge in the dolce vita. According to the hosts belief that 'if we have not love, we are nothing', the private wellness area is perfect for couples and exudes romance. Those who wish, can book 'cuddledays' which include overnight stays in the room of choice alongside hours of peaceful time to yourselves in the Roman Temple, including massages, sauna snacks and prosecco.

To ensure deep relaxation for body and soul, the EICH Spa offerings include: outdoor pool, heated all year round to 35 °C, indoor Jacuzzi, massage pool, sauna, salt water steam room, aroma infrared sauna, gentle sauna, beauty treatments, massage and beauty section 'seventh heaven with water beds', rest lounges and the expansive sun terrace.
CULINARY PLEASURES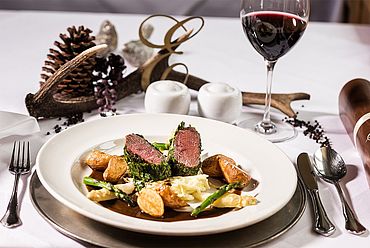 The chef and his team take particular care to use only regional and even homemade produce wherever possible. Around 100 free-range hens peck happily about near our own deer breeding area and lay fresh eggs. During venison season the hotel restaurant is a best kept secret amongst gourmets, as the game comes from our own stocks. Fish, other meat, vegetables and fruit also have limited food-miles and are sourced in the Salzkammergut area. Delicious vegetarian meals complete the varied menu, which can be eaten as à la carte or from the four-course menu. Gourmets with a nose for good wine will find what they need in our wine cave.

All these culinary delights are served in our own restaurant, the 'Landhaus Stube' or our cosy 'Schafberg Stube'. Couples who want a little time to themselves can choose to spend a few romantic hours in the 'Kaminzimmer' where they can enjoy an intimate and tasty fondue. Those who would rather a more sociable time will always find people to talk to at the hotel bar.
GOLF HOLIDAY ON LAKE MONDSEE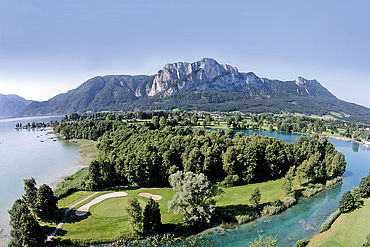 Anyone who has been bitten by the golf bug, will always want more – and Landhotel Eichingerbauer is the perfect base for golf lovers with ample opportunity to feel the thrill of the green. Within a short distance of the hotel there are no less than 13 well-groomed golf courses. Two are amongst the best golf courses in Austria, GC Drachenwand and GC Mondsee, and these are within a stone's throw of the hotel. Your hosts are themselves passionate golf players and therefore perfectly placed to offer the right advice. Where are the most elegant water obstacles and bunkers? Where is the marriage of rough and fairway especially well balanced? The team at the hotel will gladly arrange training sessions, taster sessions, golf for children or business events if you so desire.
BIKING & HIKING
The picturesque landscape which characterises the whole Salzkammergut region lends itself to biking and hiking. Biking can mean anything from a gentle cycle around the lake to a strenuous mountain bike tour. The hotel has brand new 21-gear citybikes and e-bikes for rent. But perhaps you are a motorbike lover, in which case there are countless mountain roads and 76 Salzkammergut lakes for you to discover. These lakes are what will make any water sports enthusiast's heart beat faster – choose between surfing, waterskiing, sailing, canoeing, kitesurfing or diving. Numerous walking paths pave the way for gentle family strolls or challenging hikes such as the 'Drachenwanderung' with breath-taking views from the Almkogel.
WINTER WONDERLAND & APRÈS SKI
What could possibly be more enticing? A generous healthy breakfast before sliding your skis into the car and heading off to the beautiful white slopes on the Zwölferhorn or the idyllic Postalm-Arena plateau to name but two of the stunning ski and snowboard resorts in the vicinity. Another exhilarating way to discover the Salzkammergut region is on cross-country skis. Oberhofen and St Lorenz offer cross-country ski tracks and are in close proximity to the hotel. Your diary for the next day could include the panorama cross-country track on the Mondsee Hochmoor plateau at 1000m.

The 4-star Superior Landhotel Eichingerbauer in Mondsee in the Salzkammergut region is a stunning holiday destination at any time of year.
Highlights at a glance
"EICH SPA" with heated outdoor pool
Regional culinary delights in the hotel´s own restaurant
Extensive leisure and sporting activities on offer
Beauty, massage and cosmetic treatments as desired
Nestled between 4 magnificent natural swimming lakes
The mountain offer everything from easy to strenuous hikes
Unique motorbike tours - mountains, valleys and lakes
Ski, ice-skating or cross-country skiing in the Mondsee area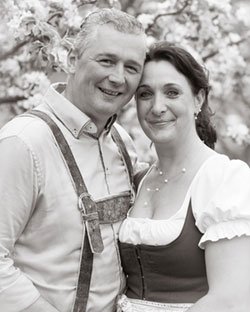 .
Sabine Sperr Lehrl und Norbert Sperr
.