Urlaub für die ganze Familie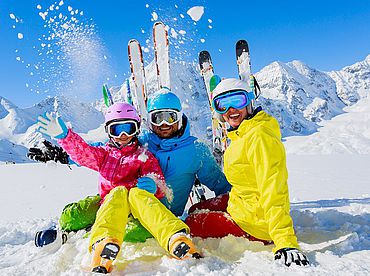 Grenzenloses Schneevergnügen
Bei strahlendem Sonnenschein die körnigen und griffigen Firnpisten carven. Der Blick auf den weiß überzogenen Alpenhauptkamm unter tiefblauem Himmel prägt sich unwiderruflich ins Gedächtnis ein.
Urlaubsqualität mit Langzeitwirkung
Bei den Landhotels finden Familien ihr perfektes Urlaubszuhause - und das je nach Geschmack inmitten der Natur oder gleich direkt an der Piste.
TOP Winterpauschalen

8 Tage / 7 Nächte Halbpension-Plus im Familienzimmer
6-Tages-Skipaß von Ski Amade, Gratis-Skipaß für Kinder
Wasserland- und Saunawelt
Skifahren inmitten von Ski Amade – 270 Lifte, 760 Pistenkilomter, 1 Skipaß. Filzmoos-Neuberg direkt vom Hotel aus befahrbar, Loipe und Skibushaltestelle vor dem Haus.
Danach rein in Wasserland und Saunawelt, mit dem 31 Grad warmen Aussenpool, Hallenbad und Saunen. Kinder – freut Euch auf den Kindercocktail, Spielraum und Fun-Area, und das tägliche Kinderkino.
Visit our Website and Click here to make a direct booking.
ab 1.998,-- im Dreibettzimmer, ab 2.208,- im Vierbettzimmer
Hier ist der Skipaß für die Kinder gratis!
Speziell für Kinder: Cocktail, Spielraum & Fun Area und Kino
Buchbar vom 01.02.2020 bis zum 11.04.2019