HOLIDAY REGION: LAKE TRAUN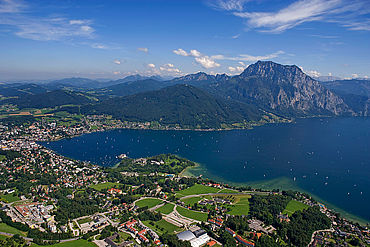 Lake Traun laps peacefully and crystal clear against its shores which lead to sumptuous meadow landscape and, to the south, to soaring mountain peaks. This holiday region is the gateway to the Salzkammergut. The elegant town of GMUNDEN, famous for its ceramics, lies at the northern end of the lake, whilst ALTMÜNSTER, TRAUNKIRCHEN and EBENSEE, all recuperative towns which promote relaxation, are dotted along the shoreline. Each of these four towns has its own irrepressible and individual charm.
TREKKING AND HIKING AROUND LAKE TRAUN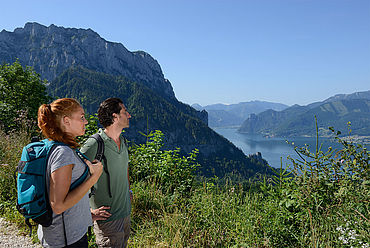 Leave your cares behind – and jump into a different world. Take delight in the regional culinary delicacies which await you in all the guest houses and alpine huts around the area. The harmonious interplay between the mountains and lakes makes this area so special. The gently rolling landscape around offers countless opportunities to hike or, for those who like a challenge, to take on exhilarating mountain treks. Views across the lake will guide you back home.
ART AND CULTURE AROUND LAKE TRAUN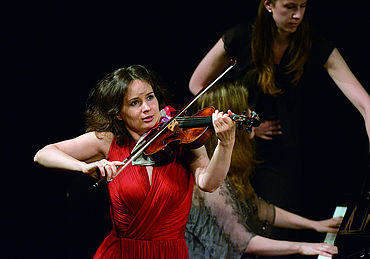 Stunning castles and venerable monasteries serve as a reminder of the rich history of this area. Ever since, the impressive buildings have inspired artists, poets and musicians to visit. Each year locals and guests alike are treated to a panoply of events, from the Salzkammergut Festwochen, an all-year-round event, to the internationally renowned ceramics market. Take part in the celebratory Corpus Christi procession, give your heart on 'Liebstattsonntag' when tradition invites you to show love (often in the form of a gingerbread heart!), or stroll your way through a saint's day fair. Anyone who has been here knows how special it is to experience tradition.
The Traunsee****s
Familie Gröller
Klosterplatz 4
A - 4801 Traunkirchen