Fishing in Austria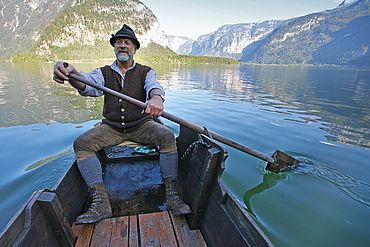 Fishing is a favourite leisure activity, and no wonder. What other pastime allows you to relax in the midst of such stunning scenery, whilst at the same time sending shivers of excitement up your spine? When will I get my first bite? Wait! Didn't I just see something move in the water? In the emerald green lakes of Austria, pike and carp wend their watery way, allowing you to picture the courageous struggle before you land the catch. Some fishermen prefer to stand with their fly rod ready to catch trout, surrounded by the natural beauty. There is one thing all fishing enthusiasts have in common; staying at a Landhotel that specialises in fishing will ensure your holiday is a fisherman's paradise.
CAST A LINE FOR THE PERFECT DAY
Alongside a plethora of other sporting activities, some Landhotels are especially suited to provide for the needs of all fishing enthusiasts, to ensure your fishing holiday in Austria is unforgettable. Landhotels.at will ensure that you have everything you need to land the perfect catch which awaits on nearby shores.

Lake Wolfgang, for example, is probably the best known lake in the Salzkammergut region. Proof of the water quality is that the rutilus meidingeri, a local species of carp which was in danger of dying out, has moved up from the endangered to the protected list and the future looks healthy. Fishermen can also look forward to angling for lake char, pike perch, bream and perch. But even the most passionate anglers may wish for a change of scenery after all the excitement of the Austrian lakes, look no further. To enjoy the area's natural beauty from a different perspective, just hop in the almost 120 year old cog railway and enjoy the views from the very top of the Schafberg.

For those of you who choose to stay a little further east at Landhotel Post in Ebensee, you will find another fisherman's paradise on your doorstep - Lake Traun. The lake itself is 12km in length and 3km in width, and Ebensee is where the river Traun flows into the lake. Lake Traun also has fabulous water quality. Corn and bread will soon see you chasing carp, while a mother of pearl fishing lure can be the perfect bait to attract river and rainbow trout. Lake trout will be tempted by a streamer with a maggot attached, but of course the tale to tell those back home begins when your bait fish lands you a heavy-weight pike. Lake Traun is known in fishing circles for its wealth of pike, making fish tales a thing of the past. Internet photographs prove that 10 kg beauties are landed not infrequently on these shores. Even fly fishermen can fulfil their dreams on Lake Traun – it is a veritable utopia for anglers.
FLY FISHING ON HOLIDAY IN AUSTRIA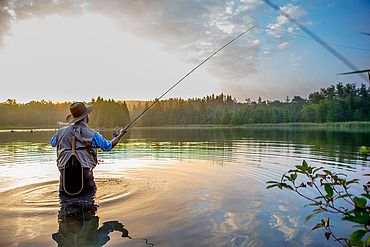 If you want to be able to return home with success stories from your fly fishing holiday in Austria, look no further than the Strasserwirt Landhotel in St Ulrich. The Pillersee is a trout angler's paradise and the demarcated fishing zone begins just a few metres from the hotel's lakeside restaurant. There is no limit to the number of rainbow trout, river trout and brook trout you can catch. For those seeking a challenge, the carp here are notorious fighters and will prove worthy opponents. These, too, may be taken on an unlimited basis. Any angler who lands a magnificent catch in the Pillersee with the backdrop of the Loferer Steinberge and the Kitzbühl mountains will hold the memory dear for years to come.
Click here to choose your hotel and prepare yourself for an unforgettable fishing holiday in Austria.