BOREDOM IS NOT AN OPTION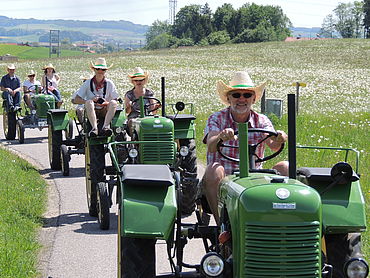 The community of Franking has a population of 1000 lucky people, living where visitors come to relax and feel at ease. The untouched nature, the quiet lanes, rich leisure opportunities and convivial hosts will ensure that you have a recuperative stay. The unspoilt scenery and a welcome peacefulness characterise this area. Nonetheless, Lake Holzöster is not a place where you could get bored! Dive into the warm waters of the moorland lake, take the walking mini-golf tour, ride in horse-drawn coaches, get in the saddle, bathe in beer or indeed hop on an old classic tractor for a change of scenery!
LAKE HOLZÖSTER: ONE OF THE WARMEST LAKES IN AUSTRIA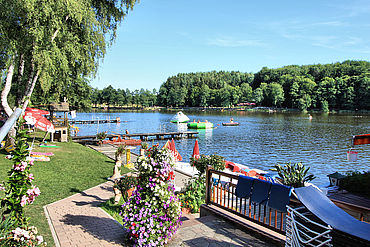 Surrounded by moorland, Lake Holzöster counts as one of the highlights of the Innviertel region, tempting not only holiday makers but also locals to its shores. The lido is beautifully cared for and a public bathing area ensure fun for children of all ages during balmy summer days. When the day-trippers leave, their place is taken by fishermen who invariably return home as happy as the swimmers before them. Regional gastronomy is of such quality that you will feel spoilt in every aspect of your holiday. Local Innviertel specialities range from tasty delicacies to delicious meals.
COUNTLESS SPORTING OPPORTUNITIES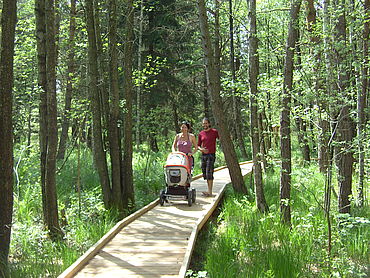 Franking is fabulously located as a gateway for extensive hiking and cycling trips. A particularly wide variety of cycle tours begin from here, leading you along quiet country lanes with little traffic. A map designed especially for hikers and cyclists takes you into the Ibmer moorland, the largest upland moor in Europe. It stretches over 25 cubic metres and you can see the very best parts from the boardwalk, making it accessible to all. Those wanting to swap to a larger saddle can push the bike to one side and hop on a horse. Hikers will be able to wow their fellow travellers with the interesting facts they glean from info points along the hiking paths.