Gafringwirt***s
Familie Hochholzer
Mittergafring 4
A - 3324 Euratsfeld
NATURE MEETS THE MODERN ART OF COOKING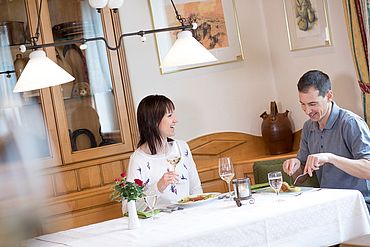 With its AMA gastronomy stamp and its Falstaff Gourmet Club Fork, our kitchens will treat you to fine Mostviertel regional cuisine using fresh local and seasonal produce. Our cellar vaults are filled not only with carefully selected wines, but also pear ciders, pear bubbly and Mostviertel spirits. Our very own cider King will help you with recommendations! You can enjoy the warm familial atmosphere and pleasant, relaxed hospitality, be it in our cosy dining rooms or on the terrace outdoors. You can spend a relaxed holiday at LANDHOTEL Gafringwirt, savouring the very best of local cuisine.
STYLISH STAYS IN OUR MOSTVIERTEL ROOMS
Our homely rooms of different sizes and categories all offer you a Mostviertel décor and will make you feel instantly at home. We have made use of only the best materials, solid wood furniture, and from the ceiling to the carpet, the rooms have been carefully designed; even the carpet has a typical Mostviertel pear design! To help you to relax, we also offer use of our physiotherm infrared cabin with colour-light therapy and can recommend strolls through the wonderful countryside around the hotel.
BALANCE THROUGH MOVEMENT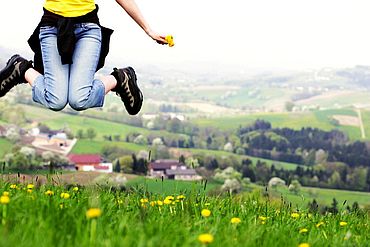 The Mostviertel in Lower Austria, south of the Danube, is characterised by its rolling hills which will seduce your senses and stir you into action. The splendid landscape is waiting to be discovered; perhaps on a bicycle through the Mostviertel region with our Cider-Route map. Our recommended motorbike tours lead you from the Danube, through the Wachau region towards Styria. Or perhaps you would like to make use of our green fees discount and visit the nearby golf courses in Amstetten-Ferschnitz (3 km) or Schloß Ernegg (10 km) to name just two of the wonderful courses in the vicinity.
SUSTAINABILITY AND MOBILITY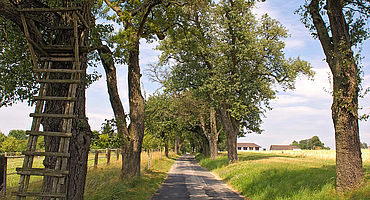 LANDHOTEL Gafringwirt has long placed high priority on regionalism and sustainability. Recently we have installed our own E-fuelling station and use our own E-delivery and shopping cart. It goes without saying that we heat our hotel using our own wood chips alongside the use of solar cells and waste heat recovery, and at the top of our shopping lists are the purchase of liquid specialities from local producers as well as local produce from local farmers.
Highlights at a glance
At the heart of the pleasure region of the Mostviertel
Cider Palace, from the cellar to the rooms above
Trekking poles and bicycles on free loan
Hike and enjoy the countryside around the hotel
The perfect golf hotel in the Mostviertel region
Light and airy meeting rooms fully with modern technology
The most spectacular motorbike tours through Lower Austria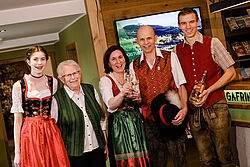 .
HOCHHOLER FAMILY
.
It is better to do a thing and repent of it, than to do nothing and regret it.
Giovanni Boccaccio